"There was nothing asked to me" Nerkiz Şahin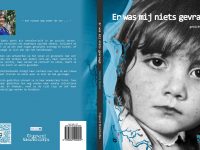 Nerkiz Şahin has written poems and novels in Turkish. Her poems have been translated into French and Russian and included in various anthologies.
On September 28, 2019, the poet presents her first collection of Dutch poems published in her book "Er Was Mij Niets Gevraagd" ("There Was Nothing Asked To Me") in the Poeziecentrum (Poetry Center) in Ghent.
Nerkiz Şahin works as a translator / interpreter in the social sector. In addition to interpreting other people's words, she draws, paints and writes to get along with her own feelings. Occasionally she also ventures into sculpting.
The search for answers to life and feelings took a different form for Nerkiz. Her search is far from over. She has already found her way of expressing herself through art and word.
This collection of stories tells her story about loss and how to start a new life after there was nothing asked to her.
Information source: Uitgeverij Gandaboeken
Further information about the book: https://www.ganda.gent/book/er-was-mij-niets-gevraagd-nerkiz-sahin/
Promotion poetry films by Yüksel Çilingir:
22 September 2019
yuksel_cilingir