Brussels Guitar Concerts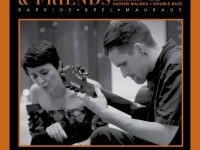 Les « Brussels Guitar Concerts » vous font découvrir de jeunes talents dans un cadre exceptionnel. Le guitariste belgo-finlandais Eerik Maurage SQ, la chanteuse Ülkü Dursun et le contrebassiste Vadzim Malneu & aux frontières de la musique écrite et de l'improvisation, où se côtoient la musique classique, les sonorités arabo-andalouses et le jazz.

« Brussels Guitar Concerts » geeft u de gelegenheid jonge talenten te ontdekken in een buitengewoon kader. De Belgisch-Finse gitarist Eerik Maurage SQ, de zangeres Ülkü Dursun en de bassist Vadzim Malneu & de grenzen van geschreven muziek en improvisatie, daar waar klassieke muziek, Arabisch-Andalousische sonoriteiten en jazz samenvloeien.
« Brussels Guitar Concerts » provide an opportunity to discover young talent in an exceptional setting. Belgian-Finnish guitarist Eerik Maurage SQ, singer Ülkü Dursun and bassist Vadzim Malneu & the frontier of written music and improvisation, where classical music meets Arab-Andalusian sounds and jazz.

Video Shooting: Yi
3 May 2019
yuksel_cilingir