Las Lloronas live at Gigos Cre@tief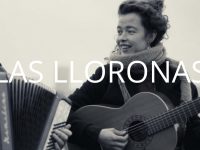 Sura Solomon (BE, USA) and Amber in 't Veld (ES, NL) have grown together into Las Lloronas (The Criers ) in the wintery streets of Brussels in December 2017.
Their music, accordion, guitar, ukulele and voices, reflects their experiences, giving birth to intimate feminist poetry. They put forth, in their melodies and performance, their vulnerable and powerful authenticity.
6 May 2019
yuksel_cilingir