Interview with – PASCAL SMET – ile Röportaj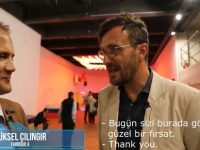 Interview with Pascal Smet on local elections, Change Brussels – a citizens list – and multicultural society.
Pascal Smet ile yerel seçimler, bir vatandaş listesi olan Change Brussels ve çok kültürlü toplum konularıyla hakkında röportaj.
Pascal Smet (sp.a) is since 2014 Minister of the Government of the Brussels-Capital Region, responsible for Mobility and Public Works, an office he also held between 2004 and 2009. He is also Minister, Member of the Board of the Flemish Community Commission (VGC), responsible for Culture, Youth, Sport and Urban Policy. Pascal Smet studied law at the university of Antwerp. He is active in the Brussels' politics since 2003 on communal and regional level.
He says "Change.Brussels brings together citizens who want to make the city better. We want go beyond party politics and don't believe in vanity projects. We believe in getting things done. That is the reason we participate in the local elections."
15 Nisan 2019
yuksel_cilingir